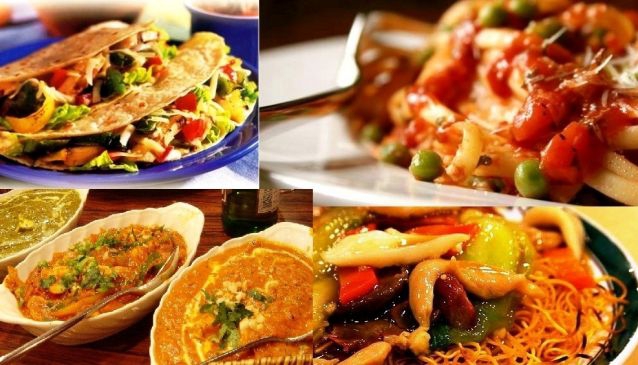 Top10 Restaurants in Mumbai
Editorial
From fine dining restaurants to...street vendors; everyone vies for your gastronomic attention
Virginia Woolf once famously said, "One cannot think well, love well and sleep well, if one has not dined well". In Mumbai, not eating well is not an option. From fine dining restaurants to quick-bite street vendors; everyone vies for your gastronomic attention.
There are many restaurants in the Maximum City that serve a wide range of delectable cuisines from around the world, pampering you with their choices and ambiance, boht of which are second to none.
Below is a list of top 10 restaurants (though not in any specific ranking) that offer you a world class dining experience in the culinary hotbed of Mumbai, the king of all metropolises.
1) Dum Pukht at ITC Maratha, Sahar, Andheri (E) - A one-of-a-kind restaurant in Mumbai, with its luxurious interiors reminiscent of a bygone era, has kept alive a more than 200 year old culinary legacy-"Dum Pukht" from the royal kitchens of the princely state of Awadh in North India. The food in this process is cooked on a slow flame in containers which are sealed with dough. The food especially the meat is cooked slowly in its own juice along with spices and herbs. The resulting dish is delicate, aromatic, rich and almost divine.
Famous dishes - Biryani, Korma, Kebab, Salan and Pulao
Open: 7 pm to 11.45 pm (Dinner)
2) China House at The Grand Hyatt, Santa Cruz (E) - This restaurant with interiors indicative of the warmth of typical Chinese hospitality, brings to you a wide variety of simple but incredibly tasty Chinese dishes, especially from the regions of Beijing and Sichuan. It has interactive open glass kitchens with multiple seating options and a lounge. It also boasts of a large variety of delicious wines.
Famous dishes - Peking Duck, Beggar's Chicken, Shanghai Soup Dumpling, Dan Dan noodles.
Open: 12.30 pm to 3.00 pm (Lunch) 7.00 pm to 12.00 am (Dinner)
3) Miro at the Svenska Design Hotel, Andheri (W) - Enveloped in Spanish flavors, this Mediterranean restaurant has a simple, elegant and cozy ambiance. It has an open interactive kitchen and serves a wide array of Mediterranean delights and wines.
Famous dishes- Lahmacun Pizza, Tapas, Pinchos, Wood Fired Grill, Paella, Potato-Green pea Hummus. Coriander seasoned Chicken
Open: 12.00 pm to 3.30 pm (Lunch) 7.30 pm to 11.45 pm (Dinner)
4) Smoke House Deli in the High Street Phoenix Mall, Lower Parel- Beautifully designed interiors in shades of white and black, this elegant and graceful restaurant offers you some delectable International cuisine and has a great wine list.
Famous dishes- Seafood Risotto, Smoked Lamb Shanks, Grilled Chicken, Pork Tenderloin Steak
Open: 11.00 am to 11.30 pm
5) Gajalee at Ville Parle- A family restaurant with a lively atmosphere, this restaurant which has an AC as well as a non-AC section, serves one of the best Maharastrian seafood cuisines in Mumbai. It has six more hep outlets with one even in Singapore but nothing beats this, the original one.
Famous dishes - Clam Koshimbir, Bombil Fry , Butter Pepper Garlic Crabs, Sol Kadi
Open: 11.00 am to 3 pm (Lunch) 7.00pm to 12.00 am (Dinner)
6) The Table at Colaba - A restaurant with an understated décor, The Table serves a truly International (though a tad expensive) range of cuisines. American, Mexican, French, Italian, Chinese, Japanese, you name it, the menu has it all. It also has an impressive range of wines.
Famous dishes - Zucchini Spaghetti, Pan Roasted Crab Cake, The Table Burger, Roast Chicken, Pork Belly and Clams
Open: 12.00 pm to 3.00 pm (Lunch) 4.30 pm to 1.00 am (Dinner)
7) Trishna at Kala Ghoda, Fort - Small and always full of customers, the restaurant serves superb South Indian coastal cuisine that has made it a haven for connoisseurs of seafood.
Famous dishes - Prawn Koliwada, Prawn Gassi with Neer Dosa, Hyderabadi Pomfret, Butter Pepper Garlic Crab, Hyderabadi dal
Open: 12.00 pm to 3.30 pm (Lunch) 7.00pm to 12.00 pm (Dinner)
8) Wasabi by Morimoto at The Taj Mahal Palace & Tower, Colaba - Though the prices are steep, the restaurant offers the best Japanese cuisine in this part of the world. The ambiance of Wasabi has a lively atmosphere with big round tables and a hammered metal lighting contraption, give it a modern edge. The sushi counter and teppanyaki kitchen are the hub of activities in this restaurant.
Famous dishes - Sushi, Chicken Teriyaki, Mushroom Tempura, Sake
Open: 12.30 pm to 2.45 pm (Lunch) 7.00 pm to 11.45 pm (Dinner)
9) Goa Portuguesa at Matunga (W )- A restrobar, it serves authentic Goan dishes inspired by a wonderful fusion of Portuguese flavors and local traditional culinary expertise.
Famous dishes - Lobster Goa Portuguesa, Chicken/Fish Jack Steak, Tender Coconut Cashew Nut Sukke, Squid Lemon Butter.
Open: 12.00 pm to 12.00 am
10) Copper Chimney at Worli - Part of a chain of restaurants, the one at Worli is the original. With a bustling ambiance, it offers you a splendid spread of North Indian cuisines with their unique flavors and aromas. It also has a buffet lunch which is particularly popular.
Famous dishes - Butter Chicken, Dal Makhani, Chicken Tikka Masala, Paneer Tikka, Chello Kebabs, Reshmi Kebabs, Rumali Roti.
Open: 12.00 pm to 3.30 pm (Lunch) 6.30 pm to 12.30 pm (Dinner)