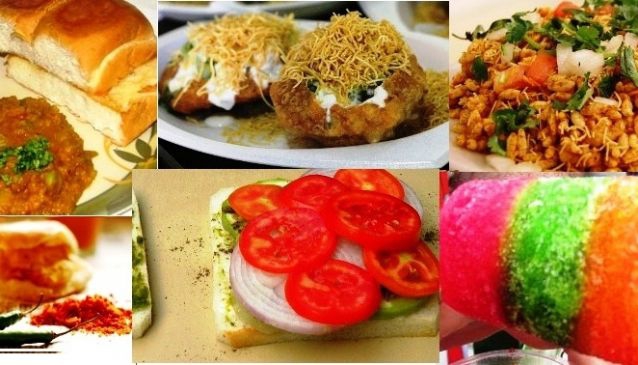 Mumbai -The Street Food Paradise
Editorial
There is no love sincere than love for food and no greater exploration than exploring street food
Mumbai boasts of some of the best restaurants that offer you world class cuisines from all across the globe. But the city's gastronomic claim to fame nationally as well as globally is for its street food and the reason is not hard to find.
Mumbai is home to a teeming swathe of population of all religions, castes, creeds and also nationalities, who live harmoniously side by side. This has been the case for centuries resulting in a delightful potpourri of art, culture and cuisine.
To say that the streets of the "Maximum City" keep it going would not be an exaggeration and neither would it be a misnomer to suggest that the food of the streets of Mumbai is what actually gives pleasure to the millions who inhabit this bustling cosmopolitan metropolis.
Listed below are a personal Top Ten Street Food of Mumbai.
1) Vada Pav- It is the undisputed King amongst the various street food available in the city. This simple vegetarian dish is made of deep fried mashed potato balls sandwiched between slices of Pav (small Indian bun) with green chillies and chutney for accompaniment. Liked by the class as well as the mass, Vada Pav is available in virtually all nooks and corners of the city and is a substitute for a quick lunch.
2) Pav Bhaji- Another of the most loved street food in Mumbai is the Pav Bhaji. This delicious dish, in fact, is one of the most popular fast food in India, especially in the Northern and Western regions. It consists of Pavs (usually buttered) along with a Bhaji (a vegetable curry) prepared of mashed potatoes and vegetables diced with tomatoes, spiced with garlic & red chili and garnished with coriander & onions, with a touch of lemon. Different variants like cheese, mushroom and paneer pav bhajis have also evolved over a period of time making it more popular by the day.
3) Ragda Pattice- A combination of Pattice (an Aloo Tikki or fried mashed potato cutlet) and Ragda (spicy yellow chickpea gravy), this famous Mumbai street food is usually available at all the chaat centers that provide you with Bhel Puris and pani puris. This dish is served after garnishing it with finely chopped onions, coriander, a sweet-sour tamarind chutney and a spicy green sauce.
4) Keema Pav- A non- vegetarian street food, this dish is very popular amongst the Mumbaikers, the residents of Mumbai. It consists of a curry made of Keema (minced meat) cooked with onions, garlic, tomatoes, chillies & spices, topped with freshly cut coriander which is then served hot with roti or pav. Keema Pav used to be a traditional breakfast dish but with the passage of time now has become an all day snack in the present fast paced life of Mumbai.
5) Bhel Puri- This snack of sweet and sour taste is made of rice puffs, chopped onions, tomatoes and boiled potatoes, all thoroughly mixed with tamarind chutney, red chili paste & chaat masala and finally garnished with coriander and crisply fried Sev/puris (a salty flour snack). This light snack is popular amongst the kids and people with a mild palate.
6) Pani Puri- Also known as Golgappa, this is a mouth watering snack which also serves as a very good palate cleanser. Puffed deep fried round discs of dough are made hollow and filled with mashed potato, peas and tamarind water. These" water balls" are typically served in a bowl made from Sal leaves. Usually 6 to 8 pani puris are served in a portion and the last one is served differently (with a puri dipped in a thick base of curd & tamarind, more often than none) signifying the end of the portion.
7) Frankie- An Indian version of the famous Lebanese pita bread wrap, the birth place of Frankie is quintessentially Mumbai. Created by a foodie Amarjit Tibb in the late 1960s, this dish has become a favorite street food of Mumbai over the years. Simply put, the Frankie is a roti (Indian bread) which is coated with an egg dip and stuffed with a variety of ingredients like mutton, chicken, paneer or vegetables. Sprinkled with spices and served rolled up in a paper, the dish is a perfect light meal.
8) Bombay Sandwich – Another of Mumbai's very own street food is the vegetable sandwich. This very "Mumbai" version of the ubiquitous sandwich usually has a fixed set of vegetables that go into making of these. Boiled potatoes, slices of cucumber, tomatoes, onions, beetroot, and capsicums are the essential ingredients which are sandwiched between soft white buttered bread slices. Topped with some spices, grated cheese and a green chilli-coriander chutney as an accompaniment, the sandwiches are cut into 6 pieces for you to enjoy a taste like no other. If you like it piping hot, then a toasted version is also available.
9) Falooda- A great dessert after the gastronomic sampling of street food in Mumbai is the Falooda. This surprisingly good looking drink is a mixture of vermicelli in milk with a bit of rose syrup and basil seeds, topped with scoops of ice cream, cherries, dry fruits & nuts. This drink is really very refreshing and acts as a wonderful energizer.
10) Gola/Chuski- Though the sight of making of a crushed ice Gola or Chuski might be revolting for some and the quality of the water and syrup on it could be suspect, but on a sultry day in Mumbai, sucking on a Gola could give you an out of this world experience. Gola/Chuski is basically a slush made after crushing ice cubes in a machine. The crushed ice is then shaped in the form of a gola or a ball and a stick is pushed in. This ice candy now formed is drenched with a variety of syrups of one's choice. Add a dash of lime and some spice mixtures and the Gola is ready to be sipped (Chuski). Amongst the variety of syrups available, the Kala Khatta or the blueberry flavor is the most popular in Mumbai.
The "Khau Gali" (Eat Street) located near the Churchgate and Marine line railway stations, has a large number of food stalls offering you a variety of dishes (mostly vegetarian). For non-vegetarian delicacies, Mohammad Ali Road, a Muslim dominated area near Crawford Market in South Mumbai is the favorite haunt. The best variety of chaats and golas are available on the various beaches of Mumbai like the Chowpatty and the Juhu beach.
Actually, a top 10 list does not do justice to the gastronomic landscape of Mumbai. In the list a variety of Kebabs and South Indian dishes like Dosa, Idli and Medu Vada, stalls of which are scattered all around the city could not be listed. But then the more one indulges in this savory journey of Mumbai, the more gems he unearths. A Food Quagmire this?
The only solution, come to Mumbai, explore its streets and take your own pick on a personal top 10 of Mumbai's Street Food.