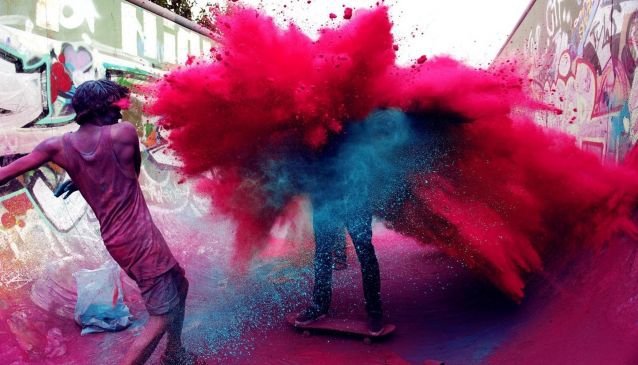 Holi Hai!
Seasonal Celebrations
Holi is one of the most vibrant and colourful festivals to grace our planet!
Come March 17th and India will explode into a riot of colours as Holi would be celebrated on this day in 2014. Also known as the "Festival of Colours, Holi is one of the most vibrant festivals to grace our planet, in which locals as well as vistors, smear each other with colours and splash water to their heart's content.
The origin of the festival can be traced to the legend of Prahlad of the Hindu mythology. Prahlad was the son of Hiranyakshyap, a powerful demon king. Disillusioned with the evil deeds of his father, Prahlad sought the blessings of the Hindu God of Preservation, Lord Vishu. This angered Hiranyakshyap and he thought of teaching his son a lesson. He urged his demon sister Holika, who had a boon that she would always remain unscathed if she entered into fire, to enter a burning pyre with Prahlad on her lap. But with the good forces on his side (read Lord Vishnu), it was Holika who was charred to death and Prahlad remained unscathed.
Lord Vishnu came to the aid of his devotee in the form of half-lion,half-man, "Narasimha" and mauled the evil Hiranyakshyap to death, thus signifying the victory of good over evil.
On the eve of the festival, (that is on the night of 16th March, this year), bonfires are lit all across India in virtually every neighbourhood. The burning of the haystacks depict the burning of Holika (on whose name, the festival is called Holi). People go around the bonfire and distribute sweets and celebrate the triumph of virtues over vices.
On the day of Holi (March 17th, this year) out come the water pistols, the water filled balloons and paints of all hues and colours. And the music, the dancing and the alcohol. Masses throng the streets and smear colours and spray water on people known and unknown, alike, spreading gaeity all across.
In the evening, usually people go to the houses of their nears and dears with their families, exchanging sweets and gifts and having a great time, in general. The merry making continues till late in the night reingniting a spirit of bonhomie among the families.
Holi is celebrated with a mischevious fervor all across India. But the Maximum City of Mumbai comes across as a very tempting destination to soak in the absolute essence of the festival. Go to any area of the city and you will find the revelry at its frivolous best.
The festival of Holi offers a very unique chance, not only for the Mumbaikar to reinforce their societal bindings but also offers the visitors to the city an opportunity to partake of the festivites associated with this colourful festival.
As the Festival of Colours, fast approaches, I cannot but exclaim as is exclaimed in the local lingo
"Bura Na Mano
Holi Hai !"
Happy Holi to All (in advance)