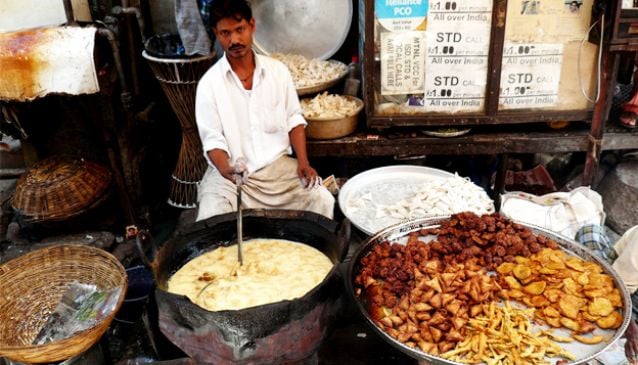 Making the Most of Mumbai
Editorial
Mumbai is a cosmopolitan city made up of people of all religions, castes, creeds and nationalities
It would take a lifetime and then some to experience all the things to do in Mumbai, the largest city in India. but in this article we have provided you with a guide on how to at least get started...
A Night in Mumbai
Mumbai is one of the best cities for nightlife, with different things going on every night. There's a whole host of places to choose from in Colaba, South Mumbai or Western Mumbai from late evening to early morning. See the city come to life at night in restaurants, resorts, hotels, bars, clubs and pubs with live music, jugglers, fire eaters, face painters, tattoo artists and fortune tellers.
If you want to go clubbing, you can take your pick from popular venues like Blue Frog, Velocity, Fire 'N' Ice, the Taj Hotel and the JW Marriott hotel, among others. At these venues, for a reasonable price you can expect a fun evening with great music and drinks. Most of these places don't allow 'stag entry' (single men), places that do are very few and are more expensive than others. Red Om Entertainment also put on a good night at Worli's Mayfair Ballrooms.Most of the parties in Mumbai last till 1 am due to government restrictions, except for private parties.
If you want to get away from the crowds with someone special then Mumbai has some spectacular views on offer. You can take a ferry ride in the Arabian Sea, spending all night on board and enjoying the majestic views of the Gateway of India, the Taj hotel and the Mumbai skyline.
A Mouthful of Mumbai
Mumbai is a cosmopolitan city made up of people of all religions, castes, creeds and nationalities. This amalgamation of different ethnicities has given rise to a very varied restaurant scene and cuisine; from vegetarian and kosher meals to seafood and meat dishes.The city is also famous for various sweet delicacies such as shrikhand, puran poli, shira and chikki, which are appreciated around the world.
When it comes to snacks there's a lot to choose from - rassa, misal pav, batata vada and aamras, among others, and that's not forgetting bhakri - a bread made from different kinds of flour, mainly jowar and bajra - which forms part of the daily menu in rural areas. Rice is eaten throughout Maharashtra and is a large part of a typical daily meal, which also includes some form of bread, bhaji (sabzi) and dal. If traditional Mumbai cuisine is what you're after, try some Maharashtrian thali. Thali food is very famous and a serving of it is more than enough for one person; it includes four chapattis, pulses, vegetables, curd, rice, salad and a dessert. The major components of Marathi food are wheat, rice, jowar , vegetables, lentils and fruit.
Some other well-known delicacies of Mumbai are bombil batata bhaji, ragda patis, sev puri, masala puri, kamag kakri, solachi kadhi and pav bhaji. Bhel puri is a popular fast food dish in Mumbai, taking the place of hamburgers and hot dogs in other countries. Most snacks are very hot and spicy. Vada pav is made with deep fried potatoes, served in bread. Pani puri consists of puris (puffed flat bread) filled with sprouts and potatoes. There are many food stalls in the city, in Khau Galii and Zaveri Bazaar for example, which sell these delicious dishes.
Another famous dish in Mumbai is chivda, flattened rice with spices and vegetables. Low budget Marathi recipes like dal rice, misal pav and usal pav are popular, and spicy chats are a particular favourite with Mumbaikars, the city's residents. Baida (egg) paratha, boti kebabs, biryani, mixed fish curry and fresh bombil also feature in the city's rich array of dishes. There's so much to choose from in Mumbai, something's sure to tickle your taste buds.
Festival Fever
Mumbai is a colourful and traditional city, celebrating festivals with gusto throughout the year. Be sure to check some of them out in Mumbai, they are a sight worth seeing.
In the month of Phalgun (February/March), Mumbaikars celebrate Holi, a colourful springtime festival.
Chattrapati Shivaji Maharaj Jayantiis celebrated every year on the day that Shivaji Maharaj, a Maratha warrior king, was born. Various events are organised in Mumbai to commemorate his achievements.
Raksha Bandhan, a festival celebrating the bond between brothers and sisters, is celebrated every year in Mumbai on the day of the full moon in the month of Shravan (July/August).
Parsi New Year is a cheerful celebration of family prosperity and happiness. Traditionally on this day Parsis place certain sacred items on a table, including a holy book, a picture of Zarathustra, a mirror, incense, fruit, flowers, candles, a goldfish bowl, sugar, bread and some coins.
The Hindu festival Krishna Janmashtami takes place on the day of birth of Lord Krishna, a mythological Hindu god. All over the city Mumbaikars celebrate and express their love for Lord Krishna with the ritual Dahi Handi, the breaking of a pot filled with curd and milk.
On the day of birth of Lord Ganesha, another Hindu festival begins, Ganesh Chaturthi, which lasts for 10 days. During this time, a huge number of people worship the god with devotional songs and aarti ceremonies in both morning and evening. Artisans make models of Lord Ganesh and there are various competitions to determine the best one. The statues are then put on display and on the day of the procession, people immerse the models in water.
Dussehrais a celebration of the victory of good over evil. According to mythology, on this day Lord Rama fought and defeated the demon king Ravana, and saved his wife Sita. Now effigies of Ravana are burnt every year on this day. The Dussehra festival is associated with Durga Puja, Navratri & Diwali.
Diwaliis the largest festival in India and is celebrated every year with great enthusiasm. It is believed that on this lucky day the goddess Lakshmi visits every house. People light diyas & candles to decorate their homes, cook many mouthwatering delicacies, wear new clothes and perform Lakshmi Puja in the evening. People pay visits to relatives and friends to wish them a "Happy Diwali".
A Bit of Bollywood
Dreamland Mumbai is the centre of the Hindi Film Industry, also known as Bollywood, a derivation of Bombay and Hollywood. The Bollywood industry is one of the biggest film industries in the world and every year it produces over 1000 movies. From silent movies to technically advanced films, Bollywood has travelled an extensive journey.
Cinema arrived in Mumbai with a screening by the Lumiere Brothers on 7 July 1896. The first silent film was Raja Harishchandra, which was released in 1913 by Dhundiraj Govind Phalke, who was known as Dada Sahab Phalke. By 1930, the industry was on track and started to produce more than 200 movies every year. The first sound film was Alam Ara, which was released in 1931 by Ardeshir Irani. In 1937 the first colour film, Kisan Kanya, was produced.
In the 1930s the development of Indian cinema was rapid and by 1940 individuals such as Debaki Bose, Chetan Anand and Nitin Bose were rising to fame. At the same time, the South Indian film industry was also growing. In the late 1940s, various films came out with different Indian languages and religions.
During the period of Independence, the Indian film industry suffered, as the country struggled with social issues.
The period between 1950 and 1960 is known as the "Golden Age", during which the industry underwent various transformations – boards were formed, acts were passed, and committees were expanded. During that time some critically acclaimed films were produced: Pyaasa and Kaagaz Ke Phool, produced by the famous Guru Dutt and the legendary Raj Kapoor produced films like Awaara in 1951 and Shree 420 in 1955. In 1957, the popular classic film Mother India was produced by Mehboob Khan, which was nominated for the Academy Award for Best Foreign Language Film. In 1960, the famous movie Mughal-e-Azam was released by K. Asif.
Bollywood has come a long way since then; now in the 21st century, cinema is more liberal, dealing with bold subjects and constantly discovering new talent. Why not see for yourself and discover the Bollywood scene in Mumbai…
Main Photo Flickr Credit: Christian Haugen